Have I told you guys how awesome you are? Because it's so true. Thank you so much for all your kind words on yesterday's post. Y'all rock my world. Thank you.
Giada is having some kind of a 'teenage-symptom' growth spurt going on. Lately she has been really testing my boundaries and has huge meltdown tantrums when I won't give into her ways. She breaks down over the smallest, most insignificant things. I mean face full of tears, and gut wrenching sobs accompanied. Let me tell ya, disciplining a toddler is not an easy task. And still, I've been doing a lot of that around here lately. She obviously doesn't grasp the full extent of the hows and why's as far as discipline goes, which makes for some very challenging days. But that's a whole post in itself. Needless to say, I still love the girl to pieces. When she's not acting like a pmsing teen, she is a total sweetheart! It just melts my heart.
I've been on this odd, non-intended daily diet of big salads and fine chocolate this week. I may have gotten a little bit ahead of my self with the chocolate the other day. Ooops.
Every time I open my pantry door, I can practically hear it scream for some TLC. So yesterday was the day! I went to good 'ol Walmart and bought myself some helping tools. And as soon as I proceeded with my grand cleaning plan, my ever so helpful daughter came over to help... by stuffing her mouth full of every piece of candy she could get her munchkin hands on. Aaannd then I spent the next 10 minutes with my fingers in her mouth, making her spit it all out. Which of course brought out the waterfalls. So I was done. I gave up for the night. My kitchen may or may not have looked like this when I went to sleep.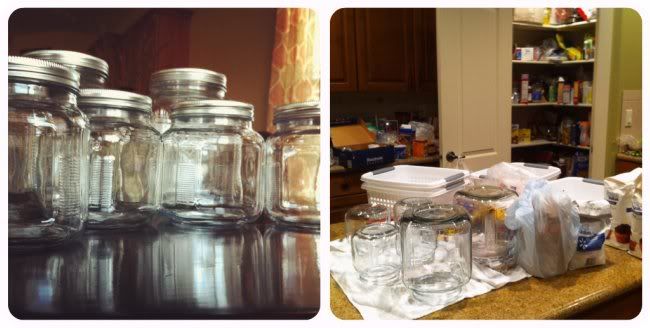 For the last few weeks I've been daydreaming about decorating our bedroom. I keep on going back and forth on the wall color choices, if I want to buy my nightstands or repaint the old ones, rearranging furniture in my head. You know, the usual all dreaming and no action. BUT... I have finally taken the first step and purchased the fabric for my curtains. Isn't it purrty! I can't wait to see them come to life!
If nothing else, girl-fren sure knows how to entertain herself during nap time. That's a whole package of wipes on the floor, whom have come to know their death prematurely.