You know how you plan for an entire week a trip with the family that is supposed to be the perfect memory....
The kind that we'll all look back at and remember, and talk about for years to come about how fun and perfect it was?
And then you know how when you plan it that way it never happen?
This Sunday we went into the mountains, and I had everything planed out perfectly:
Giada would wakeup, we would spend two hrs getting ready, then it would be her nap time, so we would leave and she'll be able to sleep in the car for two hours as we drive to our location, she would wake up and have a grand time with us as we enjoy the small town life.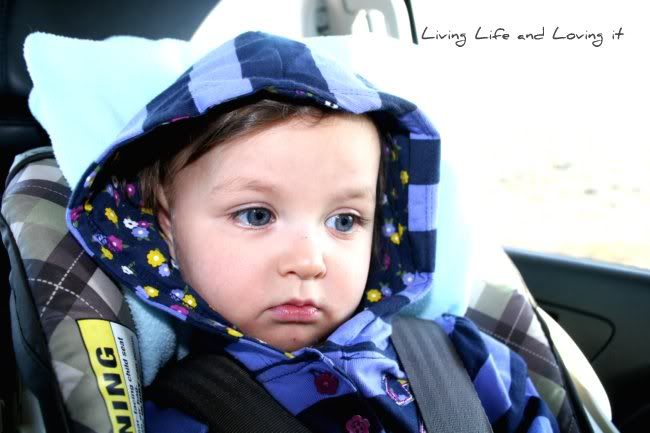 Homegirl here apparently didn't get the memo to my perfectly planned memory making/ weekend getaway.
In fact, she wanted nothing to do with it.
She completely refused to nap in the car, and would much rather scream and hold on to me begging to be taken out of the car seat.
Thank God for the creators of ipad and 'Olivia' who I'm convinced have saved me from (a) rehab and (b) a straight jacket.
On the other hand, after 4hrs of 'Olivia' I feel like (a) I can never watch another one of those episodes in this lifetime, and (b) I never want to see another swine again.
Especially the talking, smart-mouthy ones.
By the time we got to our destination, we were all starving, Giada was a tired, puffy eyed mess in mood for no fun, and my head felt like it has suffered a hammer induced concussion.
Basically the complete opposite of my fairytale, pixy-dust, Cinderella throw-up, kinda memory making day.
My girl than proceeded to be a cranky fest until about 5pm when she lost her battle in about 30 seconds once she was placed in the wagon.
The good part of that day?
We got to see more than 2inches of snow for the first time this winter.
It really was gorgeous out there.
Also? We did make some memories.
Just not the kind we planned on...
But the kind that we'll laugh about... later on. Once my headache leaves me.
The best memories are the spontaneous, unplanned ones.
Another moral of the story?
Never in your life plan your perfect weekend around a toddler's schedule.
She will laugh in your face and you will be known as the village's biggest fool
The village being your family.