I
've been having a rough time at work lately. Of course I can't go into too many details, but you know what really sours my milk? When I bust my behind off having my patient's best interest at heart, literarily put my life in jeopardy for them and their safety, and then have their family member not acknowledge any of that, but instead make a huge deal about some small trivial thing. As much as I try to not let it bother me, that ungratefulness bitters my heart you guys.
Giada is becoming such a 'big' kid. It's unbelievable how much this child knows and understands. I mean, I can actually have somewhat of a conversation with her. And even though she has such a good handle on her "selective understanding," which drives me batty by the way, I love hanging out with this chick. She melts me. Plain and simple.
This week we had some good friends tell us that they've lost their pregnancy at 9 weeks after going through 4 tough years of fertility treatments. Heartbreaking doesn't even begin to describe the sorrow in their hearts. I may never know why God chooses to allow such things to happen, but this is what I do know; He sees every tear, feels every hurt, and has the power to heal every broken heart. He promises to be with us through the storm, and I pray that I can be as strong as those people have been when and if my foundation is being shaken.
I've got it in my stubborn head that my girl is ready to be potty trained at 15 months. Before you laugh right in my face, let me tell you that I went through the 'is she ready?' list, and she has passed the test. What's even more crazy, I decided to do the 3 day training by myself. Now that's crazy talk, and I should have known it before I jumped head first into this heavy commitment.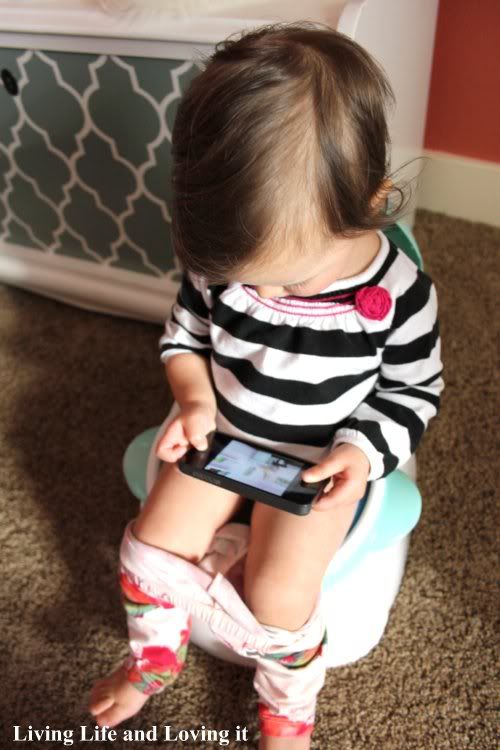 Let's just say that I'm on day two, and am losing this battle by a long shot. I know that part of it has to do with me not following the rule of letting her run around naked. But I'm not really into all that nudity stuff. Which means that she tricks me every time. Did I say this girl was smart?
I know she knows what the potty is for because she's used it before, and she tells me what she's supposed to do in there. She just chooses when she knows or not. For the most part, she pretends that it's her reading chair, or the place where she can fool mom into letting her watch Olivia.
She even grabs my hand, takes me to the potty, says "Mama pee-pee".... and then hands me the remote. Oh, and doesn't even pee in the potty! Instead she'll do it 2 minutes after she gets up from it. Oh Lo' this child! Mark my words: This is my 'grey hair' year.