My sweetest Giada Joliet,
Today you are one.
As I'm writing this letter, my mind can't help but take me back in time exactly one year ago today. It was the night before your big arrival, and I was watching Paula Dean bake Christmas cookies, thinking that the next day would be the biggest day of my life. And it was. That day and every day since. You have made my whole life 'the biggest day of my life.'
The next morning, you arrived in this world with a head full of hair, a beautiful round face… and struggling to breathe from the viral pneumonia that I had passed on to you a couple of weeks prior to your arrival. I got to see you for 10 short seconds before they scooped you up and took you to NICU. Hours passed before I was even able to really see or hold you. The situation you came in was nowhere near perfect. But you were. And I knew it from the moment I laid eyes on you.
You were mine. And my heart has never in it's life felt such joy. Ever.
You my baby, made me a mommy.
And that's by far, the biggest gift God has entrusted me with.
Since that day, we've shared many hugs. And kisses. And lessons.
We've taught you about Jesus, and words, and music, and play, and Olivia the pig, and what love and happy means, and about important things such as where you can find your stinky diaper (as you eagerly lift your skirt to show us).
In return, you have taught us how to be stronger, more patient, laugh more than our stomach muscles can take, survive on minimal sleep, love deeper than we ever thought possible and pray harder than our knees can feel. You've opened our eyes to what real beauty and real happiness means. And our hearts are bursting because you're in our lives.
We have ecstatically celebrated every single one of your milestones. Big or small, our chest could just burst with joy and pride over you. We are now, and will always be your biggest fans; your strongest supporters. The ones you can count on during your shiniest days; the ones you can lean on when life and people will let you down.
Your daddy and I will keep on teaching you about boundaries: that Jesus' love has none, that you need to have some, and that sometimes you'll need to cross them for a worthy cause, because sweet girl, you won't make a difference until you step on some toes. And lets face it. If you're anything like your mother, you'll be stepping on plenty of toes. Especially your daddy's.
Yes, we'll always guide you. However, the rest is in God's hands. So my prayer is that he blesses you with the wisdom to make the right choices; the courage to standup for what you believe; with love that will pour out on everyone you meet; with happiness that overwhelms your soul, with faith that moves mountains.
Because if anyone deserves it, it's you, my sweet baby.
And don't you ever forget.
We love you to the moon and back (and forth times infinity).
Happy First Birthday Giada!
Forever yours,
Mommy and Daddy.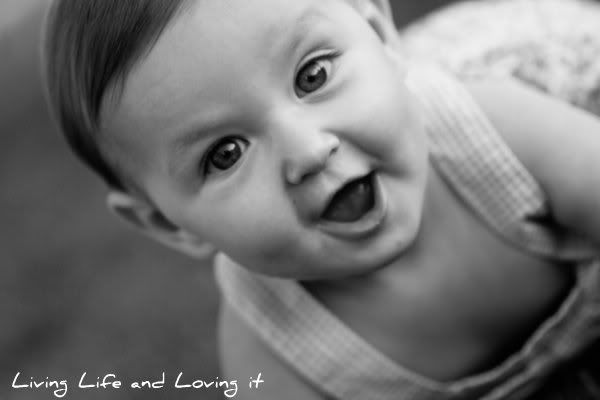 PS: We'll be busy celebrating Giada's birthday as well as mine this weekend, and I can't wait to share some pictures with you. Say a prayer that I don't lose my mind by Sunday, will you? I thank you all in advance!
Have a happy weekend!