Well hello there December.
I can't believe you're here. Again.
Regardless, I welcome you with open arms. Again!
This is without a doubt my most favorite time of the year.
There's no question about it....
Not only is it my birthday in 10 short days...
But now I have a little girl who will be celebrating her big day just TWO days before me.
Not to mention, the air is sprayed with some kind of pheromones, slash, magic fairy dust that makes everyone all lovie-dovie...
In case you were wondering, that's why you see couples playing tonsil hokey overtime everywhere you look around this time of year.
If I didn't like all this mushy stuff so much, I would probably puke.
Christmas time is the best time!
I get all kinds of crafty, excitement crazy, and hipped up on coffee to make me keep up with it all.
Funny thing is, I probably wouldn't have it any other way.
So let's talk crafts and decor now, shall we?
Every year, the day after Thanksgiving this 12foot beast of a tree goes up.
It takes about 6hours to get it all assembled...
He's all blinged out and prettified, lighting up our life and taking over about half of my living room.
Our stockings are also hung with care, with an extra one tucked neatly in a box, anxiously awaiting the arrival of a new family member so he could join in the fun.
Those of you who are thinking I'm announcing something or other, don't.
Because that extra stocking may be collecting some dust for a while before that happens.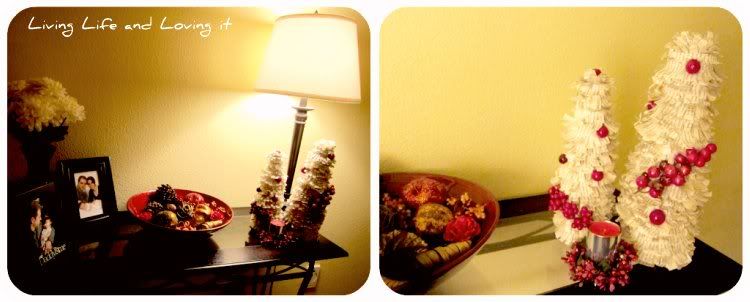 Not only have I been decorating, I've been a crafting machine the last few weeks, too.
See them paper trees up there? Yep. That was me.
Oh, and this ornament/yarn wreath down here that has taken a 1/3 of the skin off my fingers that Jesus has personally given me the day I was born?
And for those of you who are interested in this pretty thing?
I was planning on doing a wreath with yarn ornaments ONLY.
BUT I very soon realized that I would reach menopause sooner than finishing that project.
So I just did a couple of yarn ones.
Also, usually you would use the styrofoam balls to wrap the yarn around.
However, those bad boys are expensive (as in $6 for a pack of 6), so I just used cheap ornament for it instead.
It does the job and are just as pretty.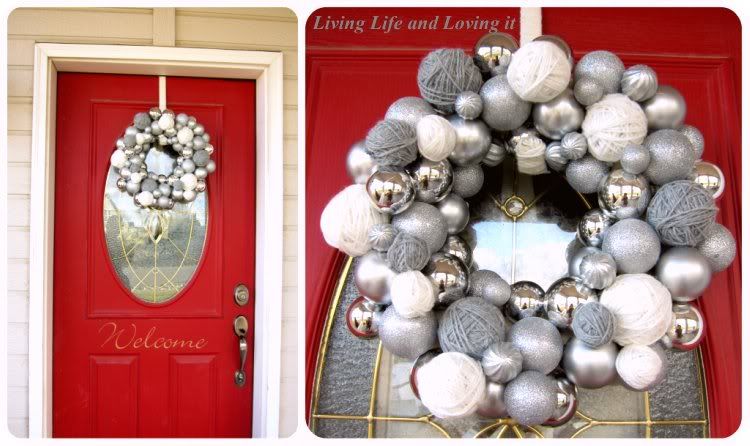 On that note, I hope all of you are having a wonderful first day of December.
Oh, and get your craft on!